I was the Chief Honorary Judge at the 2017 Sydney Concours d'Elegance which took place recently at Darling Harbour Wharf in Pyrmont under the auspices of the ICJAG, the International Chief Judge Advisory Group.
Honorary Judges have no need to concentrate on originality and authenticity, but adjudicate on the more ethereal notions of design, rarity, styling, historical significance and indeed, elegance – after all this is a Concours d'Elegance. All we had to do was look at the tremendous class winners, each honoured with a red rosette on its windshield, and decide which vehicle fulfilled the above criteria and which one we liked the most, in order to identify the Best of Show in this celebration of automotive excellence.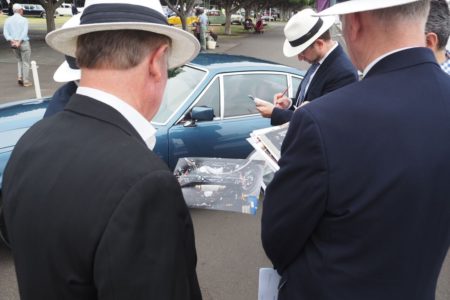 Actually the choice was quite a challenge when faced with such splendid vehicles, but after a quick double check of the votes to make sure all was in order, the Concours d'Elegance Sydney Best of Show was announced to the assembled onlookers and the prize giving took place. The Best of Show award going to the simply stunning 1959 Mercedes-Benz 190 SL Coupé, much to the delight of the owner and his family.